Choosing your design team is one of the most important decisions you can make for your home renovation project. The team is directly responsible for the comfort, flow, appearance, quality, and costs (both operation and construction) of your home. Your design team will consist of professionals with expertise specifically to their discipline. The following is a summary of each member of the design team, how you as the homeowner will interact with them and how they will contribute to make your home beautiful.
Remember, you get what you pay for.
Design Team Categories:
Design (Skin and Makeup)
Engineering (The bones)
Construction (The Build)
Design
As a homeowner, you will be spending a lot of time with designers for your home. It is important to have a good working relationship with these individuals and understand their design style to ensure it aligns with your own. Whether you are renovating, completing an addition or a new build, your primary contact during design will likely be either a BCIN Building Designer or an OAA Architect.
Building (BCIN) Designer
BCIN stands for Building Code Identification Number. BCIN designers have demonstrated proficiency with their understanding and application of the Ontario Building Code (OBC). They can practice residential design within their limitations as specified in the OBC.
OAA Architect
OAA stands for Ontario Association of Architects. For Residential design, OAA Architects perform similar duties as a BCIN Designer, who plans and designs homes. Unlike BCIN Designers, OAA Architects are qualified to review the construction of buildings.
Interior Designer
An interior designer is employed by the homeowner to oversee the design and implementation of an interior design plan. They meet with the homeowner to discuss important details such as the budget and goal for the space to help choose affordable finishes.
11 Questions to Ask an Architect or a Building Designer (houzz.com)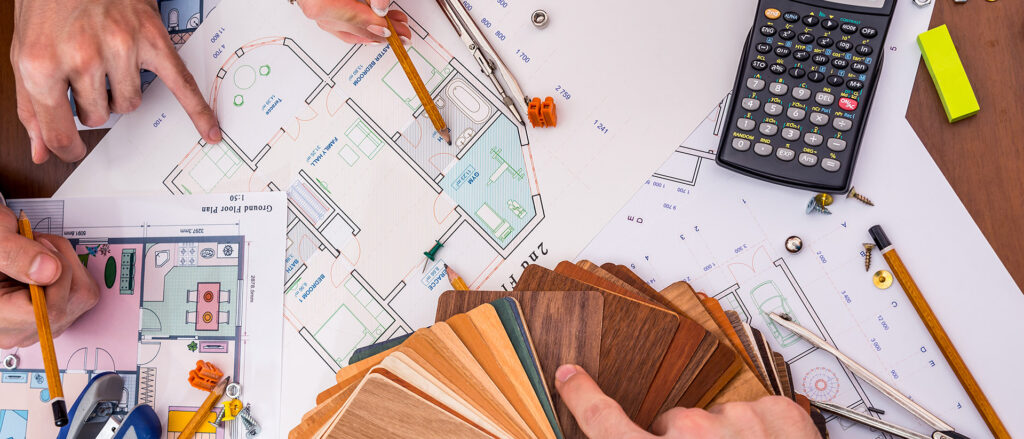 Engineering
The engineers are responsible for ensuring the design of your home is properly heated/cooled, ventilated, strong and stable. The Engineers typically work directly with the Architect (and General Contractor) to provide the most economical and constructable home. All Engineers are regulated by the Professional Engineers Ontario (PEO).
Structural Engineer
A Structural Engineer is specialized in designing and analyzing (both existing and new) structures and building materials. They provide detailed calculations about the strength and stability of your home for wind, earthquake, and gravity forces.
Soils (Geotechnical) Engineer
A Soil Engineer examines soil properties to determine important design information like soil stiffness, ground water elevations and soil stability. They will provide a report with recommendations at the design stage.
HVAC (Mechanical) Engineer
An HVAC Engineer is specialized in the areas related to heating, ventilation, and air conditioning. They design your home's mechanical systems and ventilation requirements by using historical temperatures in conjunction with your home's layout.
Questions to Ask Before Hiring a Structural Engineer for Your Residential Project (stylehomes.net)
Construction
Hiring a contractor during the design stage can help control your budget. They can contribute to the design process with the Architects and Engineers to ensure the final design fits within your anticipated construction budget.
General Contractor
A general contractor is responsible for providing all the construction materials and equipment needed for the project. General contractors ensure that the best quality materials are used, while also keeping the client's budget in mind.
Construction Manager
A Construction Manager is responsible for planning, organizing, directing, controlling, and evaluating construction projects from start to finish according to schedule, specifications and budget. They prepare and submit construction project budget estimates to the homeowner.
Site Supervisor
A site supervisor assesses hazards, determines risks, conducts regular inspections, and maintains a safety program. They supervise workers, subcontractors, and work activities to maintain your project schedule.
Sub-Trades (subcontractors)
A Sub-trade contractor is a hired company or person who is not an employee of the general contractor. Typical sub-trades include tiling, drywalling, welding, painting, roofing, masonry, mechanical and electrical work.
Hiring a Contractor (cmhc-schl.gc.ca)

If you are looking for a great design team, you should contact us at www.eternity.design.