Finding the appropriate professional contractor for a project is important. It is equally important to understanding the project scope of work (and who is responsible to complete it). Scope of work noted "By Others" on permit drawings is terminology that can be confusing and should be avoided.
Contractors and Subcontractors
For smaller projects and renovations, having a "jack of all trades" might be okay. For larger projects, having the appropriate subcontractors completed work specific to their profession can streamline the project, reduce the project schedule, and increase the quality of the final product.
Contractors and Sub-Contractors typically involved in residential construction projects before digging begins including:
General Contractor

A general contractor is responsible for providing all the construction materials and equipment needed for the project. General contractors ensure that the best quality materials are used, while also keeping the client's budget in mind.
Utility and Underground Service Locates

A service locate contractor is responsible to identify buried infrastructure on projects which require excavation or deep foundations. Locates are required if the project scope requires any underground work. This even includes smaller projects like planting a tree, building a fence or a deck or digging a new garden. In Ontario, the homeowner must contact Ontario One Call at least 5 days before digging. https://www.ontarioonecall.ca/
Tree Removal

An arborist is responsible to cut down and remove trees from a property. Any trees being removed (larger than a specific diameter) are required to be identified as acceptable by the local building department and/or the local conservation authority prior to removing them. Removing trees without the appropriate permissions can result in large fines (minimum fine of $500.00 and a maximum fine of $100,000.00 per tree) depending on the governing body.
Hoarding & Fencing (Tree Protection)

A general contractor is responsible to provide tree hoarding as specified by the municipality and/or conservation authority. Tree hoarding (fencing) is where the trees selected for preservation are protected prior to a construction project beginning. They are isolated off with barriers so that the trees are not accidentally harmed during the project.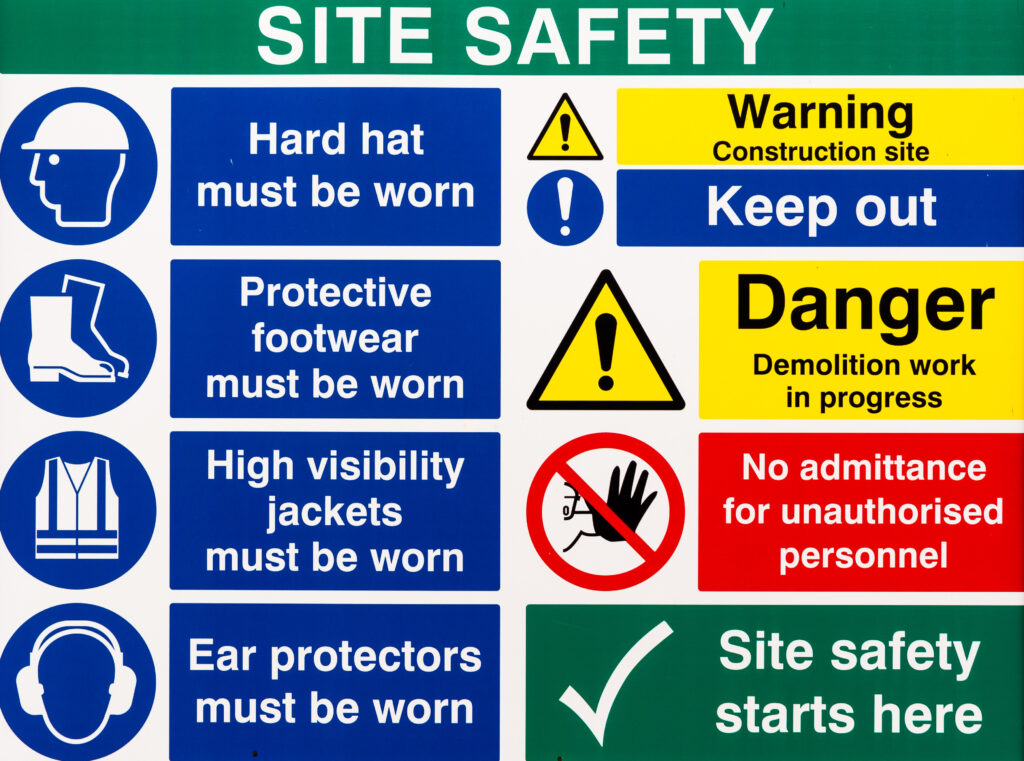 Safety (Hoarding & Fencing)

A general contractor is responsible to provide a safe and secure work site for the property. Typically, the entire construction site with be secured with fencing and a lock box to prevent unauthorized visitors from accessing the work site.
Safety (Documents and Healthy Working Environment)

The contractor is responsible for safety at the construction or work site. The contractor is also responsible for preparation of a safety plan and for carrying out the safety plan. First aid kits, fire extinguishers, muster stations, clean washrooms (portable), etc. should be readily accessible.
Shoring (Earth Works)

An earth works shoring contractor (and their engineer) is responsible to design and install below-ground structures stabilizing the ground around excavations. Earth works shoring is required when digging adjacent to the property lines, driveways, or other boundaries where settlement or soil erosion during construction will cause potential damages or unsafe work conditions.
Shoring (Framing a.k.a Temporary Works)

A temporary works shoring contractor (and their engineer) is responsible to design and install above-ground structures which stabilize existing framing or finishes allowing them to be renovated or permanently reinforced by other means. Temporary works shoring is required for removing structural walls, posts, or beams and creating or enlarging openings in brick or masonry walls.
Hazardous Materials (Contaminated Soil and Buried Storage Tanks)

A hazardous material contractor is responsible to take samples of suspect soils, excavate and remove buried storage tanks, and remediate or remove environmental hazards. The cause for contaminated soils in residential homes is primarily related to buried or leaking liquid fuel storage tanks. Soil remediation and storage tank removal is more commonly required for older homes that had oil burning stoves or furnaces which are no longer in service.
Hazardous Materials (Building Materials)

A hazardous material contractor is responsible to take samples of the hazardous material and safely remove the materials from the project. Hazardous material abatement is more commonly required for homes that were build before mid 1980s due to the building materials used for construction.
Examples of hazardous materials found in residential homes include lead, mold, asbestos, and vermiculite.
When reviewing your quotations, we recommend asking the contractor what his safety plan is to keep your site safe. Common "extras" which are usually oversites (specifically to preconstruction scope of work) include hazardous material abatement, safety fence rentals, tree hoarding and portable washroom rentals. Depending on the age of your home, we recommend having the existing building materials tested (prior to receiving bids) so you don't have any surprises pertaining to abatement costs.
If you have your drawings and are looking to get some pricing…. are ready to start your project and you need a permit, you should contact us at www.eternity.design.
If you enjoyed this blog post or know someone who may be interested, share it with a friend!
Have a great day!
Eternity Engineering Inc.